The Orlando Pride, the newest team to join the National Women's Soccer League (NWSL), selected 10 players in the Expansion Draft on Monday. The Pride's first pick, Meghan Klingenberg, will head to Portland, completing a trade that sent Alex Morgan and Kaylyn Kyle to Orlando.
From the draft, the nine players selected (barring trades as the trade window is now open) will join Alex Morgan, Kaylyn Kyle, and Sarah Hagen in Orlando next season. Among them will be goalkeeper Ashlyn Harris, who was Orlando's second pick in one of the worst-kept secrets of the expansion draft. The Satellite Beach native returns home.
Teams were able to protect nine players (playoff teams) or 10 players (non-playoff teams) on their rosters. In this case, Seattle Reign, Chicago Red Stars, FC Kansas City, and the Washington Spirit were allowed to protect nine players; the remaining clubs were allowed to protect 10 players. The full list of protected and unprotected players is here.
Pride's Picks
First Round
Meghan Klingenberg, Seattle Reign FC
Defender
As part of the trade that brought Alex Morgan and Kaylyn Kyle to the Pride, Orlando selected Klingenberg and is headed to Portland.
Second Round
Ashlyn Harris, Washington Spirit
Goalkeeper
Harris is a Florida native and made no secret of her desire to return closer to home to play. The goalkeeper is likely headed to the Olympics next summer but will be the club's first choice in net when available.
Third Round
Taryn Hemmings, Chicago Red Stars
Defender
Versatile defender who can play out right or in the center, which will help a team that is at this point light in the midfield.
Fourth Round
Jasmyn Spencer, Western New York Flash
ForwardFast, quick, speedy. Spencer will join fellow former Flash player Jamia Fields in Orlando.
Fifth Round
Jamia Fields, Western New York Flash
Midfield
The former Florida State forward could open up the attack and pair well with Spencer.
Sixth Round
Cami Levin, Sky Blue FC
Defender
Another defender. Played well for Sky Blue last season.
Seventh Round
Lianne Sanderson, Portland Thorns FC
Forward/Midfielder
Smart move since England won't be sending a team to compete in the Olympics, Sanderson will most likely be available for the majority of the season.
Eight Round
Toni Pressley, Houston Dash
Defender
Central defender. The Melbourne native and Florida State alum returns home to play alongside Harris (both former Spirit players).
Ninth Round
Maddy Evans, Boston Breakers
Defender/Midfielder
Solid for the Breakers and a fan favorite.
Tenth Round
Aubrey Bledsoe, Sky Blue FC
Goalkeeper
Assuming no other trades or moves are made, Bledsoe will have ample opportunity with Harris out for national team duty.
Harris Heads Home
"Today has been a dream, actually."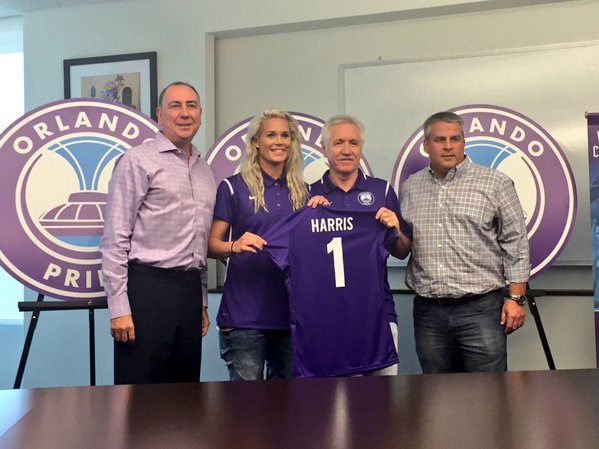 Words from Ashlyn Harris, Orlando's second-round selection at the media teleconference following the NWSL Expansion Draft. Harris is a native of Satellite Beach, a city roughly an hour from Orlando, and played her high school soccer for the Satellite High Scorpions. While there, Harris was the first female four-time Parade All-American in soccer and led the school to two state titles. She was named the Gatorade National Women's Soccer Player of the Year in 2004.
"I've waited for this moment along time," Harris said via conference call. "To be able to finally tell my friends and family I'm coming home — who have supported me over the years from afar and to be able to able to have them in the stands and to wave to them and to thank them by hopefully bringing a championship here to the city is something that I've been dreaming of for a long time."
Harris was in Orlando for the draft, popping up in a purple Pride polo mid draft on Orlando's Periscope broadcast and later made the media rounds throughout the day.
.@Ashlyn_Harris putting her name on the board after being drafted! #JoinThePride pic.twitter.com/fN1CFlALUZ

— Orlando Pride (@ORLPride) November 2, 2015
Along with Harris, Toni Pressley will suit up in purple on the back line. Pressley and Harris played for the Washington Spirit during the 2013 NWSL season. Pressley hails from Melbourne, a city roughly 15 minutes from Satellite Beach.
Harris was left unprotected in the Expansion Draft by the Spirit. Orlando general manager Paul McDonough said talks between the clubs began in the past few weeks and appreciated Spirit head coach Jim Gabarra's willingness to allow Harris to return home to play.
"We spoke with Jim Gabarra over the span of the last few weeks," McDonough said. "He knew that he would lose one allocated player. He was very accommodating to the fact that Ashlyn wanted to come back to Florida and the fact that we wanted to take her so we appreciate his efforts and his cooperation to allow Ashlyn to come back to Orlando."
For Harris, it's about coming full circle.
"Absolutely thrilled to be here today and to be picked up by such a amazing club. So wonderful to be home. I'm happy to finally come full circle and be back where I started my journey here in the Florida area."